Thanks to boo_zombie and ragdollpirate our mornings will now be filled with the evil goodness of toaster pastries, but they'll be homemade. Personally, I'm thinking s'mores, but if you wanted to cross over to the salty side, you could fill them with bacon and cheese. Or how about scrambled eggs and cheese?

Grab the full recipe here (or just scroll down) and get baking!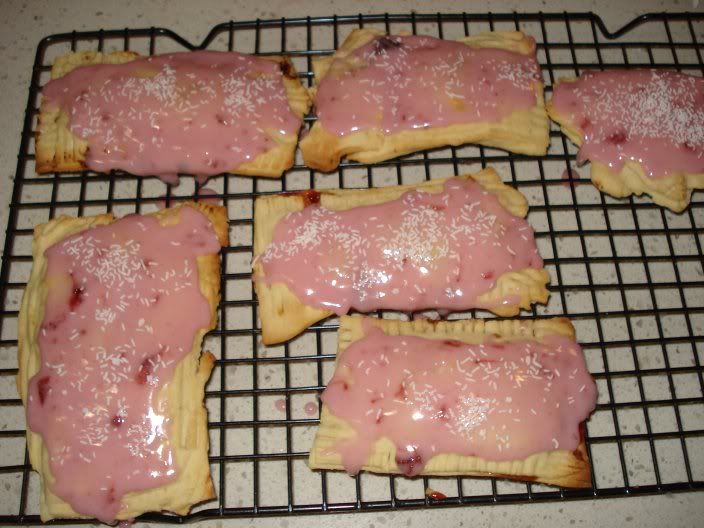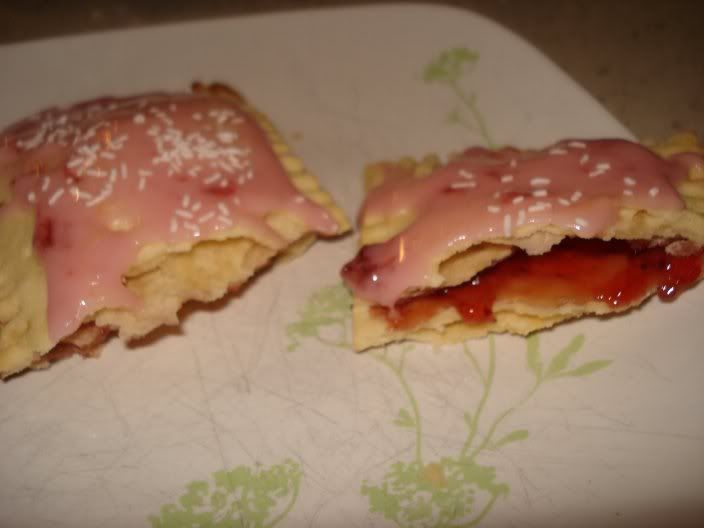 nom nom nommmm lol

YOU SHOULD THANK RAGDOLLPIRATE SHE GAVE ME THE RECIPE COZ SHE IS TOTALLY AWESOME AND I <3>

Homemade Pop Tarts Recipe
23 min | 15 min prep
12 pop tarts
For Pie Crust
• 1 1/2 cups flour
• 1/2 teaspoon salt
• 1/4 cup shortening
• 1/4 cup butter, softened
• 3 tablespoons cold water
For Filling
• 1/2 cup jam (your choice)
For Glaze
• 1 cup powdered sugar
• 3 ounces milk, to thin
• candy sprinkles
1. Preheat oven to 450°F
2. Combine flour and salt in a large bowl. Add shortening and butter and blend with a fork, pastry cutter, or your hands. Blend until mixture is fairly coarse. Add water, 1 tablespoons at a time, gently mixing dough after each addition until dough forms a ball.
3. Place dough on a lightly floured surface and roll into a square/rectangle. To about 1/8 thickness. Cut out long strips about 2 inches wide and 3 inches long. Repeat until dough runs out.
4. Take one pie crust rectangle and lace 1 teaspoons of jam on top. Cover with another piece of pie crust and crimp all four edges. Repeat with the rest of dough. Place Pop-tarts on a baking sheet with parchment paper, and bake for 7-8 minutes.
5. While pop-tarts are baking, make glaze. Place powdered sugar in a bowl. Pour milk slowing until it has a consistency of really thick syrup. 1/2 a tablespoons to 1 tablespoons might be enough.
6. Once pop-tarts are done and cooled, top with glaze. Sprinkle and decorate with colorful sprinkle.
For cherry filling just whiz some cherry pie filling until smooth.

For Chocolate add coco powder to the dough and just add bits of chocolate into the middle.