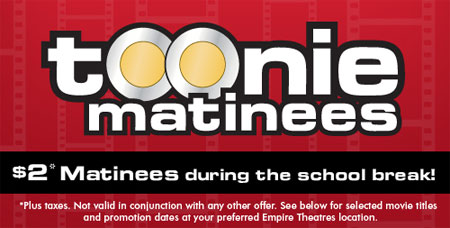 Empire theaters is (are?) having a twoonie matinee sale over the spring break check
THEIR WEBSITE
for more information on locations. They are across canada with diffirent dates for each province so take a look.
Here's Manitoba's listing
MANITOBA - March 30-April 03
BRANDON - Empire Capitol Theatre
WINKLER - Empire Southland Cinemas
WINNIPEG - Empire Grant Park 8 Cinemas
If you are in a different province check
the listings for your area!
! The dates are based on the school spring break so some locations start as early as Monday!